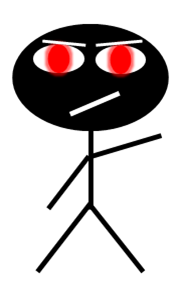 Microsoft Sam is the main character in all of nkrs200's videos along with Microsoft Mike and Microsoft Mary. He is also a prime target of many villians of the series (whichever one he may be in.)
His Debut
Sam debuted in Windows Funny Errors Season 2 Episode 2 along with Microsoft Mike, Mary, and Radar Overseer Scotty. He currently lives in Michigan, United States along side the others.
Villians
Sam had many villians. They are in the following order:
Microsoft Anna (now part of the nkrs200 team)
Natural Microsoft Sam (whereabouts are unknown at this time)
Microsoft David Desktop, the voice from Windows 8 Developer Preview (long since dead after Season 4 Episode 9)
The Linux Penguin Army (still around, but very few still remain)
Weather Overseer Herald (possibly deceased as far as we know)
Many more enemies are expected to come, but it is rumored that Natural Microsoft Sam and Microsoft David Desktop are suppose to be brought back from the dead (still unknown).